Santa Barbara Milling Machine MY EVOLUTION Fast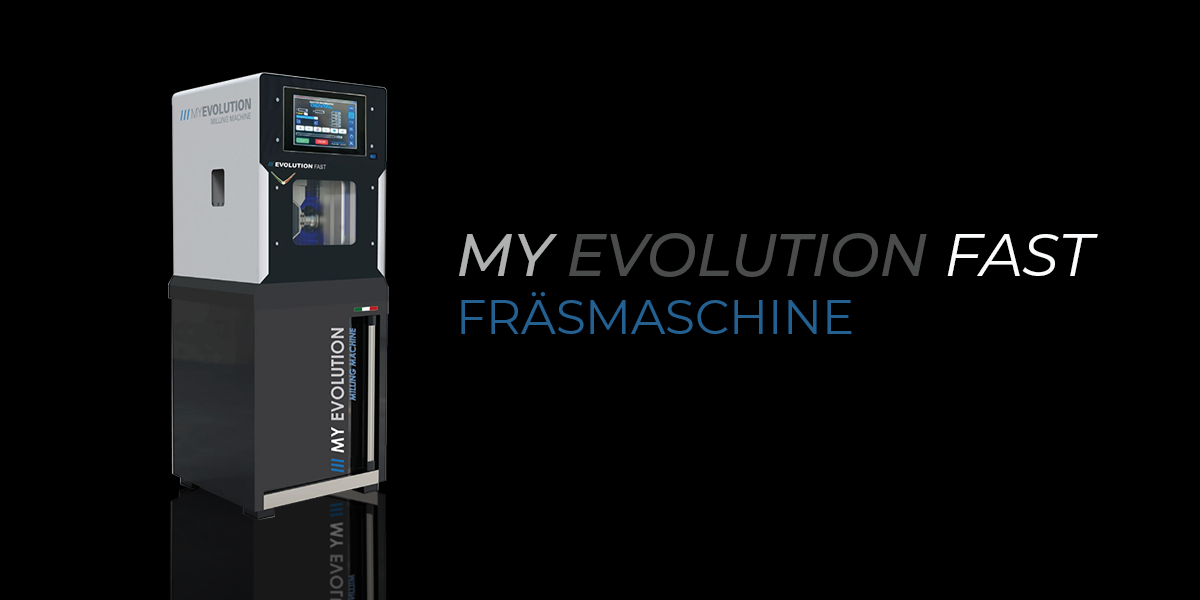 Adormelting SML Dental Powder
A compact 5-axis metal milling machine manufactured to the highest standards in the dental market.
It is simple and intuitive and has been developed using the most innovative technologies to meet the requirements of the dental industry for metal milling. My Evolution Plus has international ISO certification and is compatible with any CAM software available on the market. As a result, it is ready to use right out of the box, eliminating training time and allowing the unit to benefit from continuous software innovations.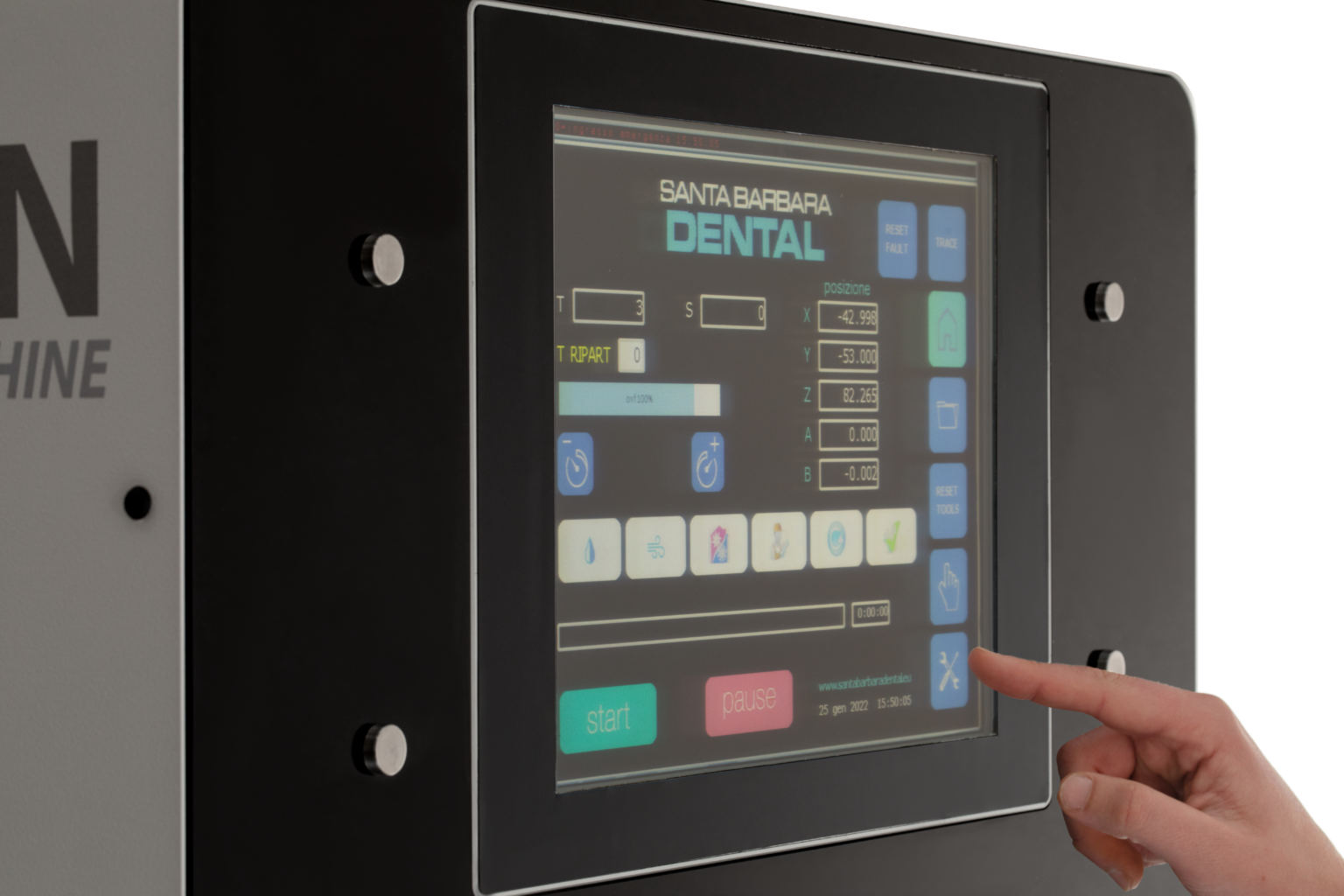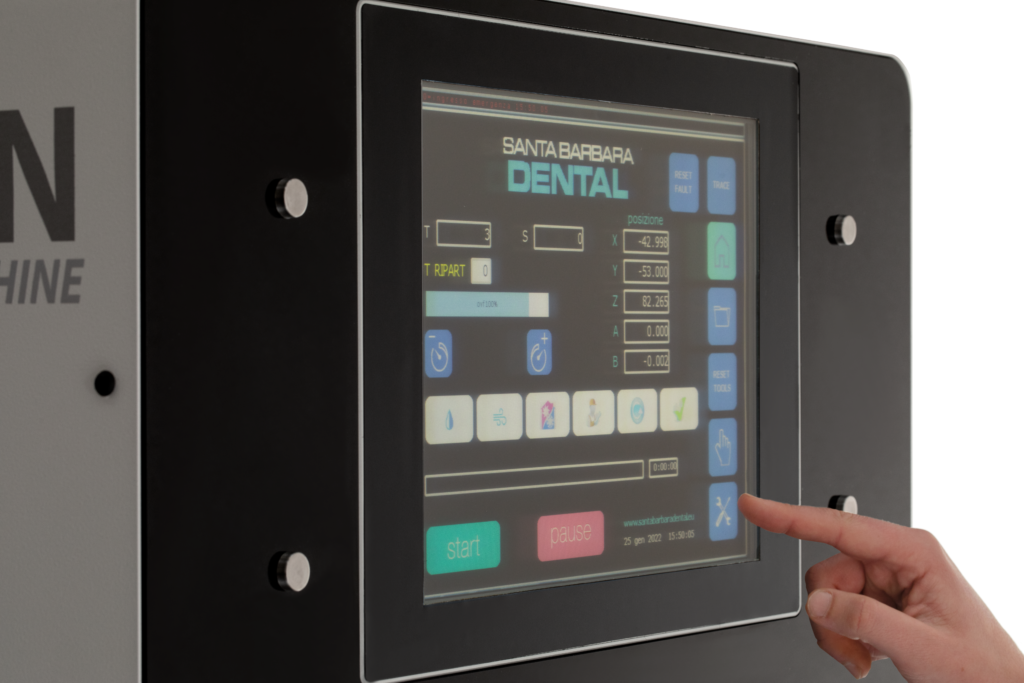 Equipped with advanced technologies
Simultaneous 5-axis numerical control.
Axis rotation: Axis A +24 degrees -115
degrees, axis B +/- 360 degrees continuous.
3.6 kW high frequency spindle with a speed of 60,000 rpm, air and coolant nozzle.
20 tool positions with integrated control of tool length with 1 micron accuracy.
All 3+2 axes are steplessly controlled centrally via motors and brushless servo systems.
Bearbeitbare Materialien: Titan, Kobalt-Chrom und Lithium-Disilikat, PMMA etc.
Machine dimensions (mm)
750mm(L) x 850mm (P) x 1800mm(H)
weight
Machine weight approx. 300 kg (without accessories))
Working range (mm)
350 mm (W) x 350 mm (D) x 480 mm (H)
Machine stops (mm)
X163mm, Y116mm, Z80mm
Rotation angle
A = +24°-115° B = +/-360°
Motor and brushless servo system
X,Y,Z,A axes 400W power B axis 200W power A and Y with brake
- Equipped with precision encoder
- Supply 36 VDC
- Protection class: IP65
- Rated speed 3,000 rpm
Mold changing stations with mold length sensor and mold breakage sensor
- 20 positions
- Diameter of the tool shank 6 mm
Automatic tool presetting
- Tool measurement accuracy ± 0.001 mm (1 μm)
- Tool length 50-57 mm
Spindle
- Power 3.6 kW
- 6,000 to 60,000 rpm
- Collet diameter 6mm
- Automatic spindle pressure control 0.9 bar
- Setting the tool lock
Axes A and B
A-axis movement = +24°-115° B = +/- 360° (stepless)
Rotation angle with precision reducers with thousandths helical gearing
X Y Z Axes
Linear axes via ball bearing guides and pads with thousandths reachability, preloaded thousandths precision ball bearings, rectified precision screws with 0 backlash.
Material holder for
Standard Ø 98.5 mm discs with step
-15″ Touch screen control panel
-Integrated industrial PC
-Santa Barbara 5-axis CNC SBM
-interface - USB
Either fill out our contact form and we will get back to you as soon as possible, or contact our customer service department at: