From a 0 to a 1500 in 8 minutes
Flexibility is more in demand today than ever before. Innovative materials need innovative solutions. And so the MV-R has its finger on the pulse when it comes to the precise sintering of modern zirconium oxides. The MV-R offers you all the freedom you need - whether it's a veneer in 30 minutes, a single crown in 60 minutes or an implant bridge overnight - one thing is certain, you will sleep well in the future thanks to your reliable partner. Enter the new era of efficiency!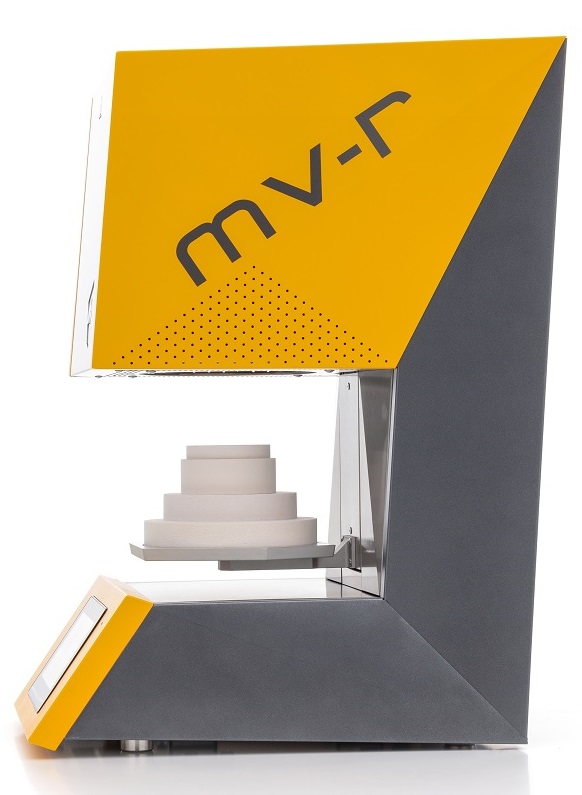 – Extremely Fast with 200°C per Minute
– Extremely High Temperatures with a maximum heat of 1650°C
– Highly Precise with an accuracy of +/- 1°C at 1500°C, controlled device cooling and
linear cooling
– High TEC through the latest control technology and molybdenum disilicide heating elements PRO
– Full Flexibility 4 sintering modes with SPEED-Motion, SPEED-Plus, SPEED and Classic
– Easy Programming & Controlling via the 7" touch display and clear
menu navigation
– ON POINT with timer function, detailed device diagnostics via QR code and access via USB interface
Technical features
Mode
Speed Motion, Speed+, Speed, Classic
Max. Temperature
1650°C
Heating elements
4 x MoSi²
Shortest heating time
8 min at 1500°C with Speed Motion
Thermo-element type
PtRh-Pt, type S
Control accuracy
at 1500°C +/-1°C
Max. Combustion chamber capacity
2 x sintering tray D100 x 30mm
Usable heating chamber height
75mm
max. temperature rise
0-900°C : 200°C/min 901-1200°C : 150°C/min 1201-1650°C : 125°C/min
Programm Spots
200
Heating stages/cooling stages
10
Special features
1) Temperature control 2) Cleaning heating chamber 3) Regeneration heating elements
Technical specifications
Max. Power
3500 watts
Voltage range, frequency
200-240V, 50/60Hz
weight
65kg
Measurements W/D/H
390/540/780mm
Energy consumption per sintering cycle
1,8 kWh at SPEED
Do you have further questions?
Make an appointment with an ADOR CAD/CAM specialist to get to know the various Mihm Vogt devices. Learn how digital dentistry can make your work processes more efficient and how you can benefit from Mihm Vogt equipment.